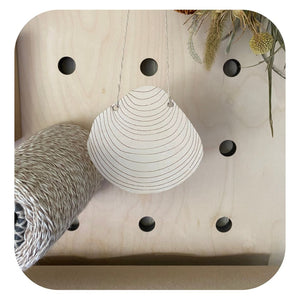 Wooden Decorative Shell and Baker's Twine Set
Regular price
£3.95
£0.00
Unit price
per
Step into a world of seaside enchantment with our whimsical Wooden Decorative Shell and Baker's Twine Set – the perfect fusion of coastal vibes and creative flair!

The Hand Painted Wooden Decorative Shell captures the essence of the beach. Its smooth surface and intricate texture mirror the patterns found on real seashells, evoking a sense of tranquility and wonder.

So how can you use this delightful shell to bring a touch of coastal charm into your home? Allow us to share some inspired ideas:

Beachy Wall Art: Thread the Baker's Twine through the hole in the Wooden Decorative Shell and create a charming wall hanging or peg board decor.  Arrange multiple shells in different sizes and colors along the twine to mimic a carefree stroll along the shoreline. Hang it in your living room, bedroom, or even your bathroom to infuse your space with coastal bliss.

Nautical Party Decor: Hosting a beach-themed gathering? Use the twine to string together a delightful garland of wooden shells, creating a whimsical backdrop for your festivities. Hang it above the refreshment table, along the porch, or anywhere you want to transport your guests to a beachside oasis.

Dreamy Mobile: Embrace the soothing nature of the ocean by crafting a dreamy mobile. Suspend the Wooden Decorative Shells from various lengths of Baker's Twine, and hang them near a window or in a cozy nook. Watch as they dance and twirl with the gentle breeze, creating a mesmerizing spectacle of coastal beauty.

Personalized Gift Tags: Get crafty with your gift-giving! Attach a Wooden Decorative Shell to a gift box or bag using the Baker's Twine. Write a heartfelt message on the shell with a fine-tip marker or pen, turning each present into a unique memento of seaside affection.

Remember, the possibilities are as vast as the ocean itself when it comes to the Wooden Decorative Shell and Baker's Twine Set. So, unleash your inner beachcomber, and let your creativity wash ashore!
The shell is made from FSC approved birch plywood, laser engraved on one side which is then hand painted. The back of the shell is plywood.
Size: 100mm x 100mm
As the wood is hand painted, the natural grain of the wood and natural marks may be visible on the design.
---
Share this Product
---