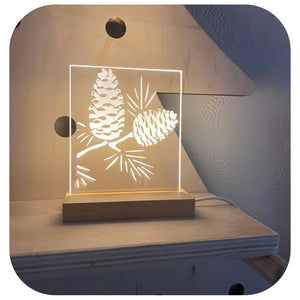 The Pine Cone Luminary Art Card with LED Light Set
Regular price
£24.50
£0.00
Unit price
per
Introducing the Pine Cone Luminary Art Card Set.

Light up your space with our exquisite Luminary Art Cards, a fusion of sustainability, creativity, and modern technology. Crafted from recycled acrylic, each card is a testament to eco-conscious craftsmanship.

Choose from a captivating range of designs, each a work of art in its own right. From mesmerising landscapes to abstract expressions, our collection offers something for every aesthetic preference. Select your favourite card set to start your light gallery.  Each design is available as a starting set and individually to add to your range.

The magic happens when you slot your chosen card into the accompanying USB LED light. Watch as the intricacies of the design come to life, bathing your space in a warm, enchanting glow. Perfect for creating a cosy ambiance and bring a touch of hygge to your room.
Whether it's a USB power pack or a standard USB plug, our Luminary Art Cards seamlessly integrate into your daily life. Transform your living room, bedroom or workspace.

Hints and Tips 

Create Focal Points: Place your Luminary Art Card in a strategic spot to draw attention and infuse your space with personality.
Mix and Match: Experiment with different card designs to evoke various moods or highlight seasonal themes.
Gift of Inspiration: Surprise your loved ones with a gift that combines creativity and eco-consciousness. It's the perfect present for birthdays, christmas, or any special occasion.

Elevate your surroundings with our Luminary Art Cards and experience the fusion of sustainable artistry and modern illumination. Conscious creativity!

Each set includes a unique design, carefully curated.  The Art Cards have a protective sticker on one side that will need to be removed.  
Taking care of your art card.
To clean, use a soft cloth. Due to the nature of the acrylic, it can scratch easily.  Extra care is required to help to keep your art card in the best condition to be used over and over again.
The LED light provides a warm white light and has an on off button on the USB lead.  It will require a USB power pack or USB plug to use.
What's in the box:
Pine Cone Luminary Acrylic Art Card 
LED light with integral USB cord
Mini Greetings Card
Instructions for care and use
Cotton Cloth for cleaning
---
Share this Product
---